Dr. Paul Rybski, UW-Whitewater Dept. of Physics, will talk about Choosing and Using an Amateur Telescope: So Many Choices, So Little Time! on Fri., Nov. 4, at 8pm in Upham 140. It's the first installment of the Fall 2015 Whitewater Observatory Lecture Series. A public viewing session at Whitewater Observatory will follow the lecture at 9:15pm, weather permitting.
LECTURE ABSTRACT
Popular astronomy articles published in magazines, newspapers and even blogs are frequently accompanied by outstanding photographs of astronomical objects. We have hard-working amateur astronomers around the world, the wildly successful Hubble Space Telescope and even the technological miracle of the Internet to thank for these pictures. But suppose you want to observe these objects with your own eyes. Where do you begin?

Tonight's lecture addresses three basic subjects in visual observing. First, what telescope design is best for observing planets and which design is best for observing faint objects like bright and dark nebulae, star clusters and galaxies? Secondly, what type of telescope mount best suits the telescope you have selected? Finally, what are the price ranges for each type of telescope and mount combination? On display and discussed during the lecture will be one refracting telescope and three different reflecting telescope designs. And each telescope will have a different style of mount that best suits the type of objects you want to observe.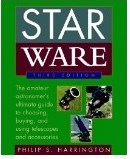 Andersen Library can help you learn more, with resources such as the books Celestial objects for modern telescopes (3rd-floor Main Collection, QB63 .C7 2002) and Star ware: The amateur astronomer's guide to choosing, buying, and using telescopes and accessories (online via EBSCOhost's eBook Collection), and articles such as "Five performance killers" (Sky & Telescope, 2012, vol.124:no.2, p.70) and "10 tips for choosing your first telescope" (Skynews: The Canadian Magazine Of Astronomy & Stargazing, 2016, vol.22:no.4, p.14).
If you'd like assistance with finding additional resources, please ask a librarian (choose chat or email, phone 262-472-1032, or visit the Reference Desk).
LATER LECTURES IN THIS SERIES
Nov. 11: Preparing for the All-American Total Solar Eclipse of Aug. 21, 2017
Nov. 18: Where — Oh, Where — is Planet Nine?
Dec. 2: Weather Conditions on Newly Discovered Exoplanets: What should you pack?