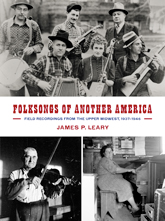 Folksongs of Another America:
Field Recordings of the Upper Midwest, 1937-1946
by James P. Leary
ML3551 .L35 2015 New Arrivals Island, 2nd floor
The upper Midwest has a long tradition of folk music that is often overlooked in favor of folk music from other areas of the country. This collection aims to change that perception by reissuing field recordings gathered on behalf of the Library of Congress during the 1930s and 1940s (5 CDs worth of music included!). Unlike many other collections, these recordings include folksongs from indigenous peoples as well-recordings and lyrics from Ho-Chunk, Ojibwe, and Oneida tribes are on several CDs. The book also includes a DVD of a new documentary about Alan Lomax, perhaps one of the most well-known of the collectors working during this time period, about his 1938 trip through the upper Midwest. In addition to the recordings themselves, Folksongs of Another America provides the lyrics (in original languages with English translations, if necessary). As fall approaches, make sure to listen to the second CD in this set: The River in the Pines. This CD contains two performances by the Wisconsin Lumberjacks band of Rice Lake, Wisconsin.