Craig Shields will talk about "The everending Earth, or how the world is always ending" on Mon., Oct. 3, at 7pm in the Irvin L. Young Auditorium. It's part of a lecture series sponsored by the College of Letters and Sciences.
Childs is an award-winning author, associate faculty of Creative Writing & Literary Arts at University of Alaska Anchorage and faculty in the Master of Fine Arts in Fiction and Nonfiction program at Southern New Hampshire University. Among his books is Apocalyptic planet: Field guide to the future of the Earth, winner of the Orion Book Award and Sigurd F. Olson Nature Writing Award in 2013. A copy is being processed for Andersen Library, but copies are available within 2-5 weekdays from other UW libraries via free UW Request). A review of the title that appeared in Geological Journal (2014, vol.49:no.6, p.656) said, "This is a book about the end of the world, illustrated by a field trip through modern severe environments."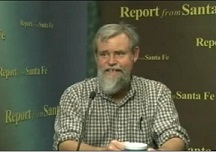 You can listen to an interview of Craig Childs talking about Apocalyptic planet on a New Mexico PBS show Report from Santa Fe last September.
If you would like to learn more, Andersen Library can help! Please ask a librarian for assistance with finding other books by Craig Childs, or searching databases for his articles, such as "The birthplace of water" (Orion Magazine, 2016, vol.35:no.1, pp.14-20), "Walking on Mars" (Orion Magazine, 2014, vol.33:no.1, pp.24-31 — about the Gran Desierto desert which closely emulates the conditions of the planet Mars, and "On the trail of the ancestors" (Natural History, 2007, vol.116:no.2, pp.58-63).
Enjoy the talk!