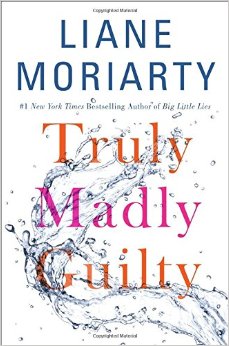 Truly Madly Guilty
by Liane Moriarty
PR9619.4.M67 T78 2016
Browsing Collection, Books, 2nd floor
Australian Liane Moriarty's recently released latest novel is about a barbecue and is also near the pinnacle of the New York Times Best Sellers list this week. It seemed a timely book worth investigating this week.
Barbecuing is a perfect summer activity. It's fun, doesn't heat up the house, and results in eating yummy grilled food afterwards. Unfortunately, the backyard barbecue happening here takes a turn for the worse. Seemingly happy couples and their children get together one afternoon in Sydney only to have tragedy strike. This fast-moving, intricately plotted novel follows three very different couples Erica and Oliver, Tiffany and Vid, and Sam and Clementine, interspersing the events of that day and those months later when they're looking back at what happened, slowly revealing the details to us. The theme of guilt flows through the complexities of marriage, friendship, and sex as the novel proceeds to its end. You can read an excerpt here.
If you want to read Moriarty's other novels (The Husband's Secret, The Hypnotist's Love Story, The Last Anniversary, Little Big Lies, Three Wishes, What Alice Forgot), some are available through UW Request.
Intrigued? You can Browse Inside the book on the Simon and Schuster website.
You may want to check out the book reviews on YouTube, as well as this video of Liane Moriarty answering five questions about the book.