Have some fun this weekend with this "oldie" online resource, in existence since 2011:
The National Jukebox is a project of the Library of Congress that streams historical commercial sound recordings. It includes "more than 10,000 78rpm disc sides issued by the Victor Talking Machine Company between 1900 and 1925," plus more content is added periodically. It has a "Day by Day" feature, and it's searchable or browsable by performer, song, composer, genre, etc. Or take advantage of the featured content on the Jukebox's home page.
Last November I toured the Sanfilippo Estate's "Place de la Musique" and enjoyed looking at many, many music machines–a variety of American and European orchestrions, music boxes playing metal disks, fairground organs, and vintage phonographs (Victrolas, Edison players, and more)–which I was reminded of because the Jukebox includes images of some of the discs. Read about "Recording technology history" from the Audio Engineering Society's web site.
We listened to an original recording of Caruso played on one of the phonographs at the Estate, so I looked up Caruso in the National Jukebox. Fantastic! Listen, for example, to him singing Vesti la giubba from Pagliacci in 1904.
Enjoy!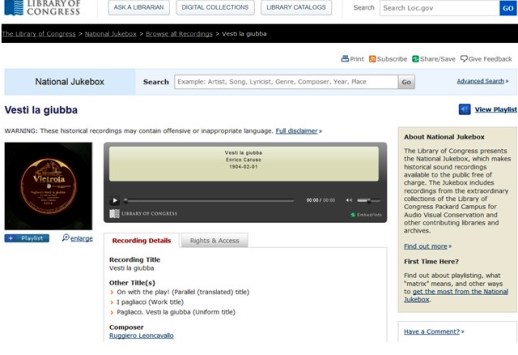 Andersen Library is a federal and Wisconsin depository library with federal and state government documents on a variety of current and relevant issues available to you in various formats (print, DVD/CD-ROM, online). Check out your government at Andersen Library!