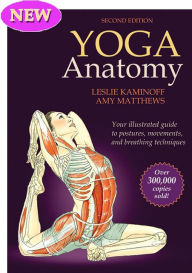 Yoga Anatomy
by Leslie Kaminoff & Amy Matthews
RA781.7 .K356 2012
New Arrivals, 2nd floor
Spring break is the time to give the brain a different kind of cerebral workout than, perhaps, the regular semester grind offers. The New Arrivals shelves offers a number of items that might help make the transition. While not a "how-to" book, Yoga Anatomy is a reference guide which provides illustrations of the muscles and movements employed during yoga practice. Browse the New Arrivals shelves and next to it you'll find the classic Light on Yoga – not for the beginning yoga attempt or faint of heart. If the idea of yoga intrigues, but these selections are beyond your current experience, try the Research@UWW virtual browse option. Scrolling to the left and right will allow you to view other items with similar call numbers, and which may be located in the Main, Oversize, or Browsing Collections.

If you are ready for a deep lunge into the research of yoga and psychology, search yoga AND (brain OR psych*) in Research@UWW.