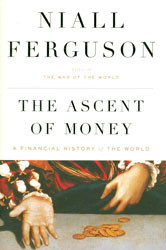 The Ascent of Money:
A Financial History of the World
By Niall Ferguson
HG171 .F47 2008
New Book Island, 2nd floor
Money, money, money. You can't live with it, can't live without it. It makes the world go round and all that good stuff. It dominates the conversation in some form or another when it comes to the nightly news to the water cooler to the classroom. The question is how did it get to be so powerful? This week's featured title seeks to answer that question.
Ferguson, highly-revered historian and scholar, tackles world history by examining the financial back stories of time. The author claims that evolution of credit and debt has had more of an impact on the rise of civilizations than any technological innovation and cites examples from the Italian Renaissance to the American Civil War. Perhaps by looking to the past can provide answers to today's tumultuous financial environment.