"Critical Issues Facing African American Students in Education" will be discussed on Tues., Feb. 23, from 3:30-4:30pm in UC275A. The alumni panel includes Dr. Alisia Moutry, Executive Director of Milwaukee Teacher Education Center, Dr. Tremayne Clardy, Principal of Sennett Middle School (Madison Metropolitan School District, MMSD), and Dr. Monica Kelsey-Brown, Director of Teaching and Learning at Brown Deer School District. It's part of the African American Heritage Lecture Series!
You can read an interview with Dr. Moutry at WisconsinWatchdog.org. You can read a brief introduction to Dr. Clardy in MMSD's "Meet Our Principals" web page. Dr. Kelsey-Brown has a brief introduction as a member of the College of Education and Professional Studies Dean's Advisory Board.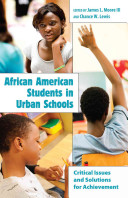 Andersen Library has resources for learning more, such as the book African American students in urban schools: Critical issues and solutions for achievement (3rd-Floor Main Collection, LC2717 .A37 2012) and articles such as these: "Challenges to success in higher education: An examination of educational challenges from the voices of college-bound black males" (Journal of Negro Education, 2013, vol.82:no.3, pp.288-299), "'Our biggest challenge is stereotypes'": Understanding stereotype threat and the academic experiences of African American undergraduates" (Journal of Negro Education, 2013, vol.82:no.4, pp.382-392), "Inside and outside gifted education programming: Hidden challenges for African American students" (Exceptional Children, 2008, vol.74:no.4, pp.433-450), "Improving African American student outcomes: Understanding educational achievement and strategies to close opportunity gaps" (Western Journal of Black Studies, 2014, vol.38:no.4, pp.209-217), and "The jar is half-empty and the jar is half-full: Challenges and opportunities in graduating first-generation African American undergraduates" (Critical Questions In Education, 2011, vol.2:no.1, pp.14-27).
Please Ask a librarian (visit the Reference Desk, call 262.472.1032, or choose to email or chat) for assistance with finding additional materials.