UW-W is committed to helping you make positive choices when it comes to nutrition. University Health and Counseling Services hosts a bi-weekly "Try-It Tuesday" event at the Andersen Library to offer free samples of snack foods to help give students ideas for healthy snacking alternatives and combat the stereotype of unhealthy foods on college campuses.
Stop in between 3-4pm on Tuesdays: March 8th, April 5th, April 19th and May 3rd.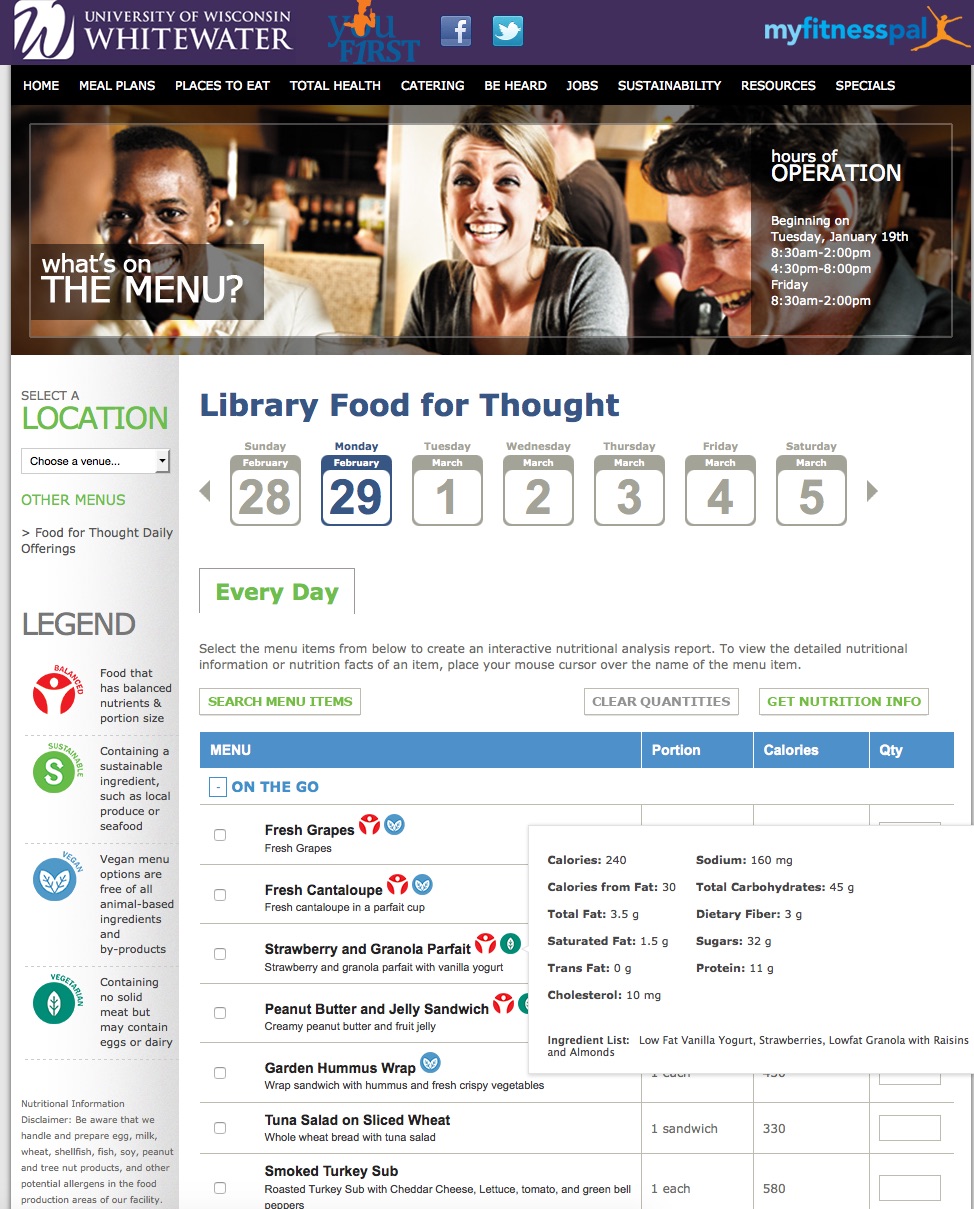 Hungry now and can't wait for the next Try-It Tuesday? Food for Thought Café is conveniently located near the library's entrance. There are plenty of healthy options like fresh fruit, salads, tea, yogurt, and more! Check out the Dine on Campus website for menu options or download the app from the Google Play Store  or Tunes Store to help you navigate UW-W campus dining menu choices on the go.
Andersen Library and UHCS both have many great resources available to help you stay healthy. Visit the UHCS's Nutrition and Eating Healthfully wellness site for advice from the experts. Check out #AndersenLibrary materials related to nutrition and healthy eating, including documentary DVDs on nutrition and the food industry, and many cookbooks such as this tantalizing title – The Unofficial Harry Potter Cookbook.
Why not catch a film? On Monday, March 7th, the student organization, P.E.A.C.E. will host a screening of  That Sugar Film: One man's journey to discover the bitter truth about sugar. Director Damon Gameau follows the Supersize Me playbook, documenting the effects of a high sugar diet on a healthy body by consuming only foods that are commonly perceived as 'healthy'. As noted in a the New York Times review, the "breezy blend of computer imagery, musical numbers, sketches and offbeat field trips makes the nutrition lessons easy to digest."
Catch this film screening in Summers Auditorium in the University Center, Monday, March 7th, at 5:30 pm.  NEW TIME: 5:00PM

This site is not meant to replace the advice of a health care or counseling professional. You should not rely on any information on this blog to replace consultations with qualified professionals regarding your own specific situation.