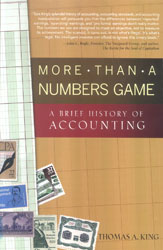 More Than a Numbers Game:
A Brief History of Accounting
by Thomas King
HF5616 .U5 K53 2006
New Book Island, 2nd floor
In honor of the fact that I start my journey into accounting with Introduction to Financial Accounting, I thought that this book was appropriate for New Stuff Tuesday.
King, treasurer of Progressive Insurance and a native of Racine, uses More Than a Numbers Game to fill the void in the thousands of accounting texts published since Luca Pacioli wrote the first one in 1494. According to the reviews, he's done a pretty darn good job of it too. The textbooks students and professionals utilize on a daily basis address the how-to part of compiling balance sheets and analyzing financial statements. King's book confronts the why's of accounting and examines six issues important to accountants and the managers, investors and other consumers of financial information: inflation, volatility, intangibles, debt, options and earnings. This text would serve as an excellent primer to understanding the reasons for the way accounting has evolved and what the future holds for the profession.