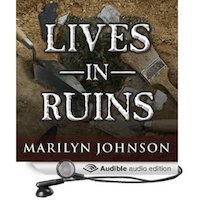 Lives in Ruins:
Archaeologists and the Seductive Lure of Human Rubble
by Marilyn Johnson (Author); Hillary Huber (Narrator)
CC175 .J64 2014
Browsing Collection, Audiobooks, 2nd floor
Braving tropical insects and toxic flora while digging trenches in archaeology field school, beating a bout of exam anxiety while auditing a university archaeology course, and bearing a beer tasting in Philadelphia are only a few of the means Marilyn Johnson uses to unearth lively tales about archaeologists and to root out misrepresentations of their work. In her examination of an often misrepresented field, she entertains questions such as, How do archaeologists regard Jane Auel's Earth's Children series? to What happens when a craft brewer and an archaeologist collaborate?
Johnson immerses herself in the culture of the archaeologist, and readily admits that those who can recognize the shapes and contours of Wisconsin effigy mounds have earned her respect. Her work serves as homage to those striving passionately to preserve the clues to the history of the earliest homonids to those hoping to preserve the legacy of Captain Cook in Newport harbor, Rhode Island.
Another audiobook that provides an entertaining introduction to an equally fascinating profession is The Mushroom Hunters: On the Trail of an Underground America. And I would be remiss if I failed to mention Johnson's earlier work, This Book is Overdue! : How Librarians and Cybrarians Can Save Us All.