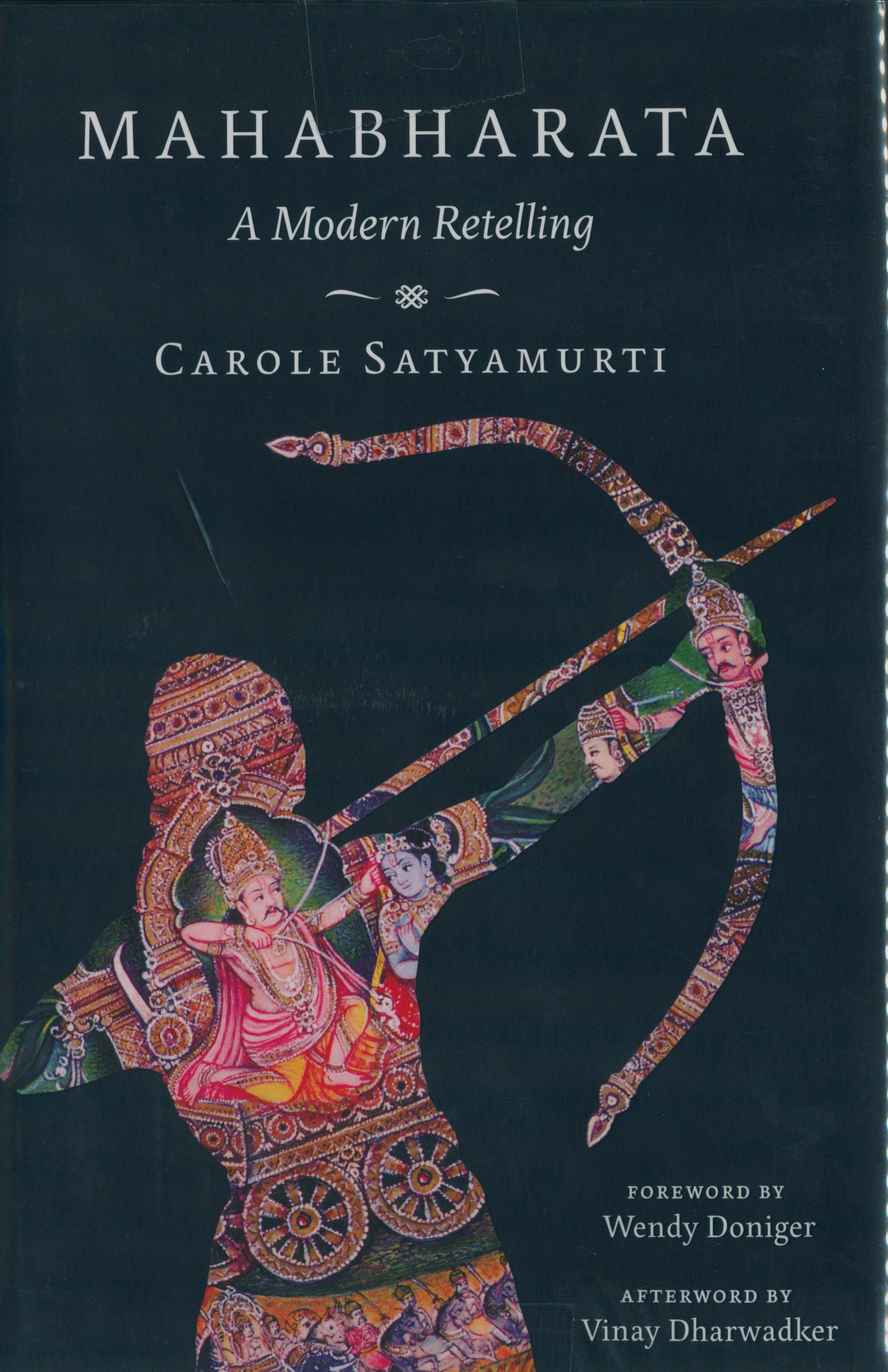 Mahabharata:
A Modern Retelling
by Carole Satyamurti
PR6069.A776 M34 2015
New Arrivals Island, 2nd floor
Satyamurti is a British poet, sociologist, and translator who has lived all over the world. She's taught for the Arvon Foundation, the Poetry Society (UK), the University of East London, and other institutions.
The Mahabharata, which is the world's lengthiest poem, has been around for a long, long time. Often attributed to Vyasa, but likely created and amended by multiple poets and priests over the years, the original was composed in Sanskrit about 2,000 years ago. Satyamurti's version, which contains all eighteen books of the original, is an accessible English blank verse translation released into the wild just this year. Her lovely and engaging version uses other translations as main sources, including primarily K.M. Ganguli's unabridged 5,000-page English prose translation. This Hindu classic has themes of war, duty, love, and spiritual freedom that have been and still are relevant today. This book has been a strong influence for both eastern and western literature over the centuries.
With more than 90,000 couplets, this poem is a hard one to summarize briefly, so here is an abridgment of its entry in the Columbia Electronic Encyclopedia (2014):
The main plot of the Mahabharata is the fictitious account of a dynastic struggle and great civil war in the kingdom of Kurukshetra, whose throne fell to the prince Dhritarashtra, but he was blind and therefore, according to custom, not eligible to rule. His younger brother Pandu became king instead, but he renounced the throne and retired as a hermit to the Himalayas. Dhritarashtra then became king. When the sons of Pandu came of age, the eldest, Yuddhisthira, demanded the throne from Dhritarashtra. However, the sons of Dhritarashtra treacherously plotted against the Pandavas, the rightful heirs. Pandu's sons were driven from the kingdom and communally married the Princess Draupadi. Dhritarashtra subsequently renounced the throne and divided the kingdom between his and his brother's sons. Not happy with this, his own sons challenged their cousins to a great dice match, at which they deviously won the entire kingdom. 13 years later Pandu's sons returned to reclaim the kingdom and a large battle ensued, which they won. Yuddhisthira ascended the throne. After a long and peaceful reign he and his brothers abdicated and with their wife Draupadi set out for the Himalayas, where they entered the blissful City of the Gods.
I think you'll enjoy this version, but if you'd rather check out a different one, here is what the library has available:
Mahabharata.