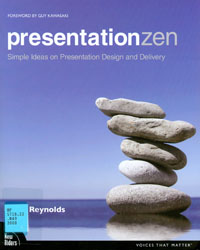 Presentation Zen:
Simple Ideas on Presentation Design & Delivery
By Garr Reynolds
HF5718.22 .R49 2008
New Book Island, 2nd floor
Think of the last presentation you saw, whether it was part of a class project or at a conference. What about the presentation did you like or dislike? Chances are that one of your reasons has something to do with the visual component of the speaker's delivery, which most likely involved a Powerpoint slideshow (or overhead projector for old-schoolers). The fact of the matter is that the visual aspect will make or break you in terms of the audience's overall satisfaction (or lackthereof) of the presentation. This week's featured title provides the tips and tricks to engage our listeners with your slides.
Reynolds, former executive at Apple and current business professor in Japan, sat through one too many bad Powerpoint presentations and then decided to do something about it – he founded the most visited blog on presentation design. Given its success, he produced this book, which addresses the stages of presentation: preparation, design and delivery. He covers everything from the planning (think analog: whiteboards, post-its, *gasp* – pen and paper) to the look of the slides (signal v noise ratio and the rule of thirds) to the big day ("playing on one buttock" – read it and find out). It's a quick and engaging read that will give even the most seasoned professionals a few more tricks to pull out of the bag.
Another cool thing – the preface, written by Guy Kawasaki, is a Powerpoint presentation. It's pretty neat-o.