The Wisconsin Magazine of History's Winter 2014-2015 issue features the article "The farm at Ten Chimneys: A closer look at the home of Alfred Lunt and Lynn Fontanne" (pp.38-49), written by Erika Laabs, who received her bachelor's degree in history from UW-Whitewater and now works as a preservationist for Ten Chimneys in Genesee Depot, WI.
Ten Chimneys is a National Historic Landmark, but as Laabs' article reveals, it was a beloved retreat and a working farm for the Tony and Emmy Award-winning couple. Milwaukee native Alfred Lunt died in 1977, while Lynn Fontanne remained at Ten Chimneys until her death in 1983. The estate opened to the public in 2003, and is both a museum and a resource for theatre. It provides events such as play readings and an annual master class and retreat for promising regional theatre actors from across the country.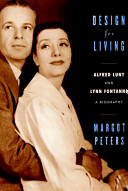 Would you like to learn more? Andersen Library has resources such as these books: Stagestruck: The romance of Alfred Lunt and Lynn Fontanne (3rd-floor Main Collection, PN2287 .L8 Z6 [1965]), The fabulous Lunts: A biography of Alfred Lunt and Lynn Fontanne (3rd-floor Main Collection, PN2287 .L8 B76 1986), Design for living: Alfred Lunt and Lynn Fontanne: A biography (1st-floor Special Collections, PN2287.L8 P48 2003), and The Lunts: An illustrated study of their work, with a list of their appearances on stage and screen (3rd-floor Main Collection, PN2287 .L8 F7 1958). Articles that are available include "Broadway legends Alfred Lunt and Lynn Fontanne: The acting couple's Ten Chimneys retreat in Wisconsin" (Architectural Digest, 1995, vol.52:no.11, pp.228-233 — available in print in Andersen Library's 1st-floor bound periodicals with the photographs accompanying the article), and "Alfred, Lynn, and GBS" (Independent Shavian, 2003, vol.41:no.2/3, pp.31-38).
These resources are just a sample of the many, many others available. Please ask a librarian for assistance with finding additional resources.
Andersen Library is a federal and Wisconsin depository library with federal and state government documents on a variety of current and relevant issues available to you in various formats (print, DVD/CD-ROM, online). Check out your government at Andersen Library!