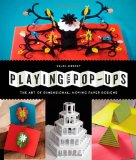 Playing with Pop-ups:
The Art of Dimensional, Moving Paper Designs
by Helen Hiebert
TT870 .H51735 2014
New Arrivals, 2nd floor
Are you beginning to feel a bit less than inspired in your coursework? Are you approaching your class projects, wishing to be able to present your hard work with a bit of flair, but lacking the spark to make it happen? Perhaps in your sincere efforts to be an academic powerhouse, you have been neglecting to give your right brain a bit of needed activity. You can find more than a little creative inspiration on many levels with Hiebert's Playing with Pop-ups. Hiebert begins by introducing the reader to the anatomy of a pop-up, enticing the reader to grab little more than a a few sheets of colored paper and blade and start experimenting with the basics. She then entices the reader to get lost in the intricacies of more complex folding and slicing, and later to explore the work of paper "engineers" and book artists such as Renee Jablow and Paul Johnson.
If you are less inclined to be crafty, but admire the work of the book artist, Andersen Library has many examples of pop-up books in both the Curriculum and Main Collections.