On Tues., Sept. 16, at 3:30 p.m. Barb and Ken Wardius, authors and photographers for the book Wisconsin lighthouses: A photographic and historical guide, will present a talk and slide show at the Irvin L. Young Memorial Library (Whitewater's public library at 431 W. Center St.). UWW students and staff may borrow copies of their book from other UW campus libraries by using the free Universal Borrowing service, which gets requested materials here in 2-5 weekdays.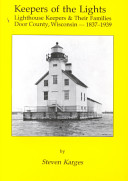 If you are interested in Wisconsin lighthouses, you may also want to watch the video Keepers of the Door: The story of the Door County lighthouses, available from Andersen Library's 2nd-floor Browsing VHS at VK1024.W6 K44 1997. There also is a book, Keepers of the lights: Lighthouse keepers & their families: Door County, Wisconsin, 1837-1939, available in 1st-floor Special Collections for in-library use, which was written by Steven Karges, professor emeritus from UWW's History Dept.
If you'd like assistance with finding additional materials, please ask a librarian.