While everyone was gone for the summer, Andersen Library was busy expanding the Food for Thought Café and adding all kinds of new resources to our collection. The resource I'm most excited about is the database IBISWorld. IBISWorld is an industry research database that includes reports for more than 700 industries in the United States. Each reports is approximately 30 pages long and contains information such as the competitive landscape, operating conditions, and the future outlook of the industry. This resource is great for business students who need background information on a specific industry for a Marketing or Management class or for entrepreneurs hoping to start their own business. Have you ever wanted to operate your own food truck? IBISWorld can give you details on the street vendor industry!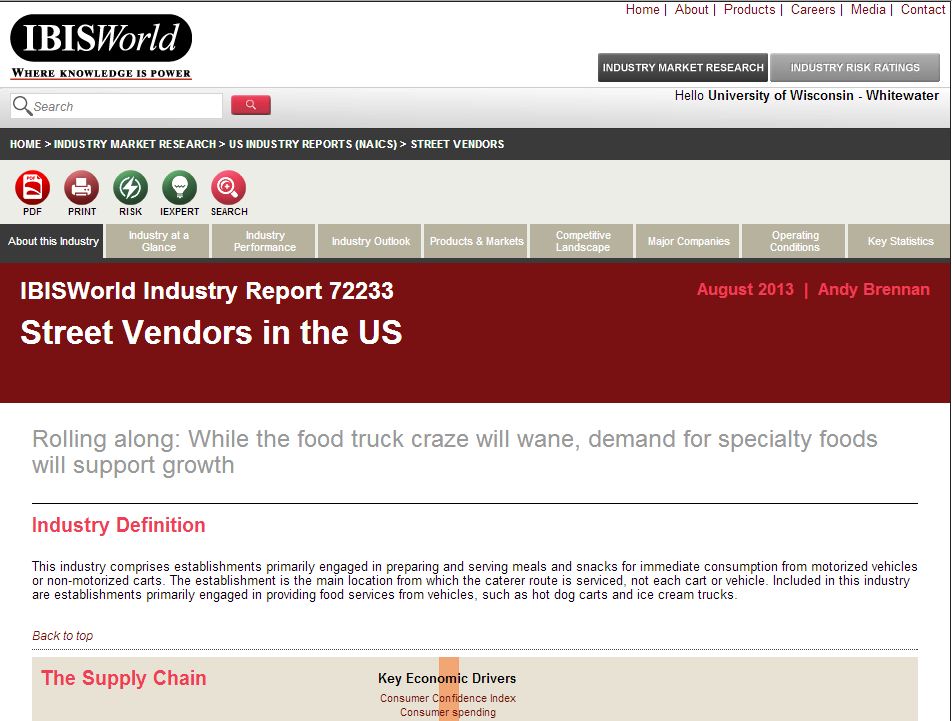 UW-Whitewater students, faculty, and staff also have access to IBISWorld's specialized industry reports. These reports cover niche industries ranging from faucet manufacturing to scuba diving instruction. Additionally, our subscription to IBISWorld contains global industry reports, which allow you to get an idea of how a specific industry is doing in the context of the global economy.
You can access IBISWorld and other business research databases by clicking the Articles/Databases tab in the center of the Library's homepage. Then click Business from the Databases by Subject box on the right side of the screen. This will give you a list of all the business databases Andersen Library subscribes to. If you have any questions about using business resources, contact Amanda Howell at hatlanda@uww.edu or 262.472.5519.