Looking for a place to enjoy lunch outside? Maybe with a little music, too? Mmmmm…like a mini-vacation in the middle of your day!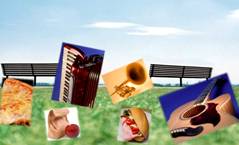 On Thursdays in July, from 11:30am-12:45pm, eat while sitting on the lawn of the Cultural Arts Center (402 W Main St, Whitewater, by the Birge Fountain) and listen to live music! Bring your own lunch, or get something from the vendor of the week. It's the "Savory Sounds" series:
July 10: Music: Brothers Quinn / Food: LaPreferida
July 17: Music: Whiskey Doubles / Food: Black Sheep
July 24: Music: Looper's Blues Duo / Food: Rocky Rococo
Also check out "Summer on the Mall" lunches by University Dining/Chartwells on July 10 and August 7, from 11am-1pm outside the north side of the campus University Center (or if it rains, in the UC Hamilton Room). Live music, art activities, prizes, socializing. Yum.
If you're in town on Thursday nights, check out the free 2014 Concert In The Park series! Music starts at 7pm in Cravath Lakefront Park (341 S Fremont Street, Whitewater), and if you'd like to dine you can bring your own meal or order dinner baskets from the Black Sheep (call 262-458-4751 or stop into the Black Sheep to order your basket before the concert). Music dates are listed below, while on other Thursday nights there are "Family Fun Night" events instead of music.
July 10: The Dang Its'
July 31: Funky Blue Reaction
August 21: Piper Road Spring Band
On other days, you can always check out music recordings (or audio books or print books, if you prefer) from Andersen Library and liven up any lunch or evening! They're all listed in the catalog, or you can browse the shelves. We've got all kinds of music, from Wycliffe Gordon (jazz trombonist) to opera classics. Please ask a librarian for assistance with finding materials, if desired.