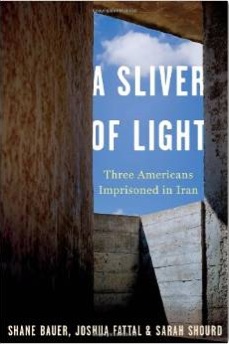 A Sliver of Light:
Three Americans Imprisoned in Iran
Browsing Books Audio DS318.9 .B38 2014
New Arrivals, 2nd floor
It will be some time before we begin to learn about the ordeal endured by service member Sgt. Bowe Bergdahl during his captivity. While stories of such events take time to unfold, if shared publicly at all, memoirs of captivity such as A Sliver of Light highlight the psychological torment of solitary confinement and of interrogations. Recalling the news stories of the three Americans imprisoned in Iran in 2009, one may have wondered how three civilians could find themselves on the wrong side of an international border while enjoying a day hike. Shane Bauer, Josh Fattal, and Sarah Shourd's story is a reminder of the vastness of our own country and its open spaces, and of the friendliness of our neighbors. While it remains unclear whether they accidentally crossed over or were tricked across by Iranian soldiers who had waved them closer while pointing guns, the following two years unfold in this audiobook alternating among each of the three captives' narration. In addition to a fascinating listen, A Sliver of Light, as with our recent events, is a reminder of the tireless work of families and advocates, the roles governments play to bring citizens home, and how the captives can only hope, often with little evidence, that such work may indeed be taking place.