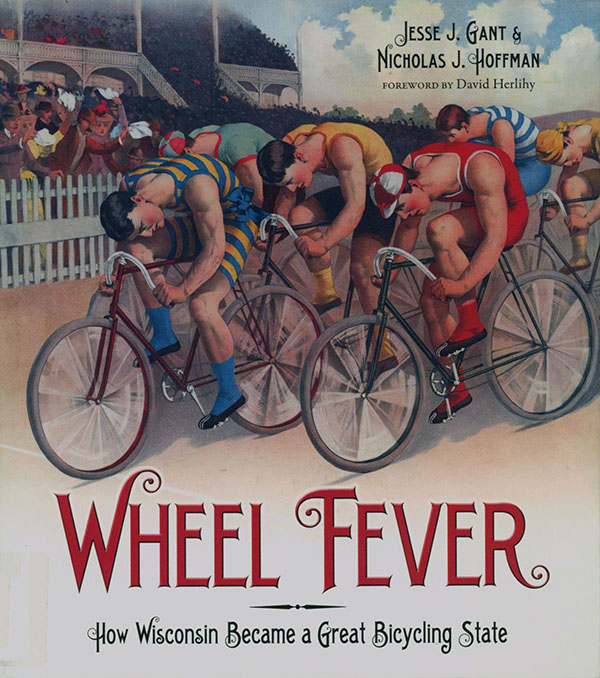 Wheel Fever:
How Wisconsin Became a Great Bicycling State
by Jesse J. Gant and Nicholas J. Hoffman.
GV1045.5 .W62 G36 2013
New Arrivals, 2nd floor
Not only have the first robins of spring returned to Whitewater, but bicycles can also be seen flocking back to campus. What better time to turn the pages of Wheel Fever.
Because the "rails to trails" program has turned hundreds of miles of railroad bed into bicycle paths, the Badger State is renowned for its bicycling friendliness. But our state's bicycling fame began long before that. Wisconsin historians Jesse Grant and Nicholas Hoffman team up to explore the history of bicycling in Wisconsin from its beginnings in 1869 to the present day. Mainly they focus on the mid-1890s when the bicycling bug bit the entire country in earnest and the nation went wild with wheel fever. With the introduction of the safety bicycle (which looks much like modern-day bicycles), bicycling could be enjoyed by the masses — and was no longer confined to daredevils riding high-wheelers.
Amateur bicycling clubs sprang up across the state, attracting thousands of enthusiasts. Indoor skating rinks were turned into "velocipede" riding schools. City and county fairgrounds hosted cycling races and soon velodromes appeared in cities like Milwaukee, Racine and Neenah.
The authors also explore the role of women and various ethnic groups in the rise of bicycling. For instance, Major Taylor, an African American, became one of the most famous racing cyclists in the world in the 1890s.
The plethora of period photographs, advertisements and other cultural objects illustrating the rise of bicycling in Wisconsin are reason enough to catch Wheel Fever and take it for a spin.