Terri Jentz will speak about "Strange Piece of Paradise: Violence Hiding in Plain Sight" on Monday, December 3rd, at 7 p.m. in the Young Auditorium as part of the Letters and Sciences Community Reading Initiative.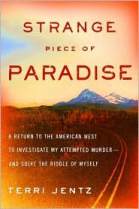 Jentz has written Strange Piece of Paradise to recount her investigation into the mystery of an attack by an axe-wielding stranger upon her and a friend in 1977 while they were camping in Cline Falls State Park in central Oregon. In May 2006 USA Today described it: "Part true crime, part memoir, part a profile of a stone-cold psychopath and part an exploration of violence and its effect on people and communities, Jentz's book is tough to read — and even tougher to put down." In a review for The New York Times Sunday Book Review, Mary Roach says that "Like many such journeys, "Strange Piece of Paradise" is not likely to be an undertaking you regret. The author's experience as a screenwriter has given her an unerring feel for visual detail…" Excerpts from a number of reviews are available from Barnes and Noble's web site or Amazon's web site. The New York Times named it one of the fifty nonfiction "Notable Books of the Year" for 2006.
The University Library has a copy of the book in its 3rd-floor Main Collection (call no. HV6793.O7 J46 2007), but if it is checked out on campus then UW-W faculty, staff, and students may request a copy free from other UW campus libraries using the Universal Borrowing service. Requested items should arrive in 2-4 weekdays. The Irvin L. Young Memorial (public) Library in Whitewater also has this book in its collection.