Ruha Benjamin, professor of Sociology and African American Studies at Boston University and author of People's science: Bodies and rights on the stem cell frontier, will talk about "Race Unplugged: Beyond racial sound bites of pundits, politicians, and pop culture" at 7 p.m. on Monday, March 10, in the Irvin L. Young Auditorium. It's the next Spring 2014 Contemporary Issues Lecture.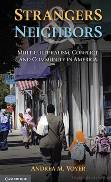 Andersen Library has related materials. Search HALCat for books such as Media & minorities: The politics of race in news and entertainment (3rd-floor Main Collection, PN1995.9.M56 L37 2006), "Can we all get along?": Racial and ethnic minorities in American politics (3rd-floor Main Collection, E184.A1 M347 2010), and Strangers and neighbors: Multiculturalism, conflict, and community in America (3rd-floor Main Collection, F30.S67 V69 2013). Search article databases for additional resources, such as "Race talk: The psychology of racial dialogues" (American Psychologist, 2013, vol.68:no.8, p.663) and "What is racism? Racial discourse and racial politics" (Critical Sociology, 2006, vol.32:no.2-3,pp.255-274).)
If you'd like assistance with finding additional materials, please ask a librarian.