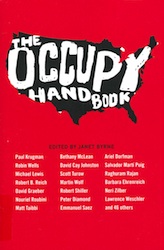 The Occupy Handbook:
Edited by Janet Byrne
HC110 .I5 O24 2012
New Arrivals, 2nd floor
I had the fortune of traveling to New York for the first time in the fall of 2011. As I walked around the Financial District, I got to experience firsthand the craziness [and interesting smells] that was the topic of this week's featured title.
The Occupy Wall Street movement made headlines all over with its direct attack on the country's more affluent individuals. The protests sparked an intense debate about income inequality and distribution of wealth. Byrne, the editor, pulls together the pieces on the events leading up to the Occupy movements, the current state of affairs, and what can be done to fix the problem. A veritable "Who's who" in the area of economics and journalism, the book provides the context needed to understand the gravity and complexity of the situation.