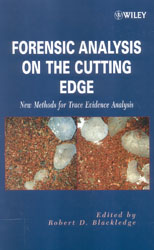 Forensic Analysis on the Cutting Edge:
New Methods for Trade Evidence Analysis
Edited by Robert Blackledge
HV8073 .F557 2007
New Book Island, 2nd floor
I was looking for a scary book to feature today with it being Halloween tomorrow, but unfortunately, I couldn't find one. So I thought that I'd focus on crime instead (think 'Friday the 13th' and its sequel 'Saturday the 14th: The Police Investigation' or something like that).
If you want to know the latest trends in forensic analysis, then this book is for you. The editor that compiled the readings was the senior forensic chemist at the Naval Criminal Investigative Service Regional Forensic Laboratory in San Diego (nice credentials). This volume covers the up-to-date developments in trace evidence analysis, from what airbags can tell you in an automobile accident to using ultraviolet laser to analyze ink. Don't worry, there aren't any pictures of horrific crime scenes. Criminals, don't read this book because if CSI helps you evade the police, this book will too.