Journeying via The Secret Door is a bit like slipping down the rabbit hole with Alice at times, especially since the sites you'll see aren't always labelled (or may not be labelled in English), but The Secret Door uses Google Maps to offer you glimpses into places near and far, including going underwater at Heron Island (Queensland, Australia/Great Barrier Reef); visiting a classroom in Bunkyo (Tokyo, Japan); staring down Riksveg 890 in Finnmark; attending Calvary Temple Church (Winnipeg, Canada); glimpsing paintings at the Tate Britain (London); admiring the Grand Canyon, and much more.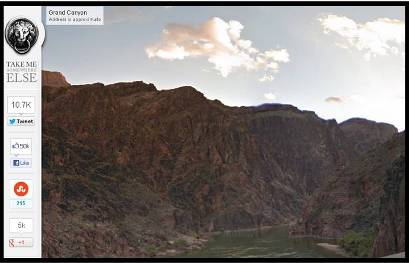 Wouldn't you like to visit someplace unexpected today?
Click the lion's head "door" knocker to visit a new site, and then look around by clicking the arrows or dragging the white shape that appears when you mouse over the image!
Thank you, Anne, for introducing me to this site!