Elizabeth Royte, will talk about "Bottlemania: Big business, local springs and the battle over America's drinking water" at the Irvin L. Young Auditorium on Monday, April 8, at 7 p.m. This is the last Spring 2013 Contemporary Issues Lecture.
You can learn more about Elizabeth Royte, drinking water, and bottled water at Andersen Library!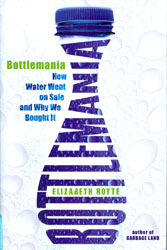 Search HALCat for Royte's books, which include Bottlemania: How water went on sale and why we bought it (3rd-floor Main Collection, HD9349.M542 R69 2008) and Garbage land: On the secret trail of trash (3rd-floor Main Collection, HD4484.N7 R68 2005). If Andersen Library's copies are checked out, UWW students and staff may request them from other UW libraries using the free Universal Borrowing service. Requested items arrive in 2-4 weekdays.
There are non-Royte resources in HALCat, too, including a Congressional committee hearing Regulation of bottled water: Hearing, "Drinking to live: The work of ethically branded bottled water," a chapter in the book Ethical consumption: A critical introduction (3rd-floor Main Collection, HB835 .E84 2011), Bottled and sold: The story behind our obsession with bottled water (3rd-floor Main Collection, TP659 .G54 2010), and the video Flow for love of water (2nd-floor Browsing DVD, Academic, HD1691 .F59 2008).
Search article databases for articles authored by Royte and you'll see, for example, "The Last Drop" (National Geographic, 2010, vol.217:no.4, pp.172-177), "A tall, cool drink of…sewage?" (New York Times Magazine, 2008, p.30), and "What the frack is in our food?" (Nation, 2012, vol.295:no.25, pp.11-18).
There are many, many additional related articles that are not authored by Royte, including "Tap or Bottled Water: Drinking Preferences Among Urban Minority Children and Adolescents" (Journal of Community Health, 2012, vol.37:no.1, pp.54-58), "What's Wrong with the Tap? Examining Perceptions of Tap Water and Bottled Water at Purdue University" (Environmental Management, 2011, vol.48:no.3, pp.588-601), and "Protecting Freshwater Resources in the Era of Global Water Markets: Lessons Learned from Bottled Water" (University of Denver Water Law Review, 2009, vol.13:no.1, pp.1-54).
Also check out Royte's blog, Notes on waste, water, whatever, and her page about Bottlemania, which includes excerpts of reviews and a link to Royte talking about recycled water on a radio show at a National Public Radio affiliate at Santa Monica College, CA.
If you'd like assistance with finding additional materials, please ask a librarian.
Andersen Library is a federal and Wisconsin depository library with many federal and state government documents on a variety of current and relevant issues available to you in many formats, including online. Check out your government at Andersen Library!