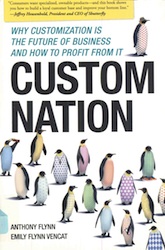 Custom Nation:
Why Customization Is the Future of Business
And How to Profit from It
by Anthony Flynn & Emily Flynn Vencat
HF5415.127 .F59 2012
New Arrivals, 2nd floor
Technology has opened the floodgates of possibility when it comes to communication. We can quickly and effortlessly keep in touch with our networks through a variety of devices. This extends to the way in which consumers connect with businesses, with instant feedback on Facebook and Twitter. It also gives companies to come out with personalized products that much more easily, and this week's featured title deals with the wave of the future in consumer goods.
Anthony Flynn, founder of YouBar, and Emily Flynn Vencat, journalist, detail just how businesses can take advantage of customization to improve their bottom lines. Pulling from experience of building a business on customizable products, they show readers the ropes with their how-to guide of what to do and not do. The authors provide plenty of case studies from the most successful custom brands like Pandora and Netflix. It's also not just for the start-ups, as more established companies could inject new life into their business. This book is a must for learning about the power of customization.