Plan to drive safely this winter! Look up weather ahead of time.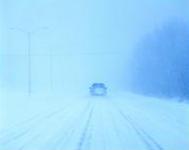 Check road conditions ahead of time. The Wis. Dept. of Transportation's Driving Conditions web site provides a map showing conditions on interstates and other major highways in Wisconsin, info on work zones, links to traffic cameras and congestion maps for Madison and Milwaukee, and links to weather sites. Other states may have similar sites, e.g., Illinois, Minnesota, Iowa, and Michigan.
There are often toll-free phone numbers to call also, e.g,. for Wisconsin's road report call 1-800-ROADWIS (762-3947).
And don't forget to prepare for cold weather by dressing appropriately and having a winter survival kit in your car, as recommended by the Centers for Disease Control.

The University Library is a federal depository with many federal, state, local, and international documents on a variety of current and relevant issues available to you in print, microfiche, CD-ROM, and electronically. Come check out your government at the University Library!