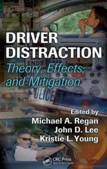 Driver Distraction:
Theory, Effects and Mitigation
Edited by Michael Regan, John Lee and Kristie Young
HE5620 .D59 D75 2009
New Book Island, 2nd floor
We're pretty much all guilty of it. I can only think of one person maybe that can claim to be above this. To what am I referring? Getting behind the wheel and driving while… distracted. Talking on your cell phone, eating, putting on makeup (I've never understood how that one works out for anyone) are all commonplace on the road. This week's featured book reminds us all this holiday travel season to keep both hands and mind on task with the goal of arriving to your destination safely.
The book's description quotes a statistic that up to twenty-three percent of crashes and near-crashes can be chalked up to driver distraction. The editors have compiled an excellent assortment of chapters about the distractions themselves and their correlations to driving performance and risk of accidents. It also covers prevention strategies, from legislation to automobile design. As this is a scholarly source, each chapter includes a list of references for further reading. If you're researching the effects of cell phone use on drivers, this would be the perfect starting point.