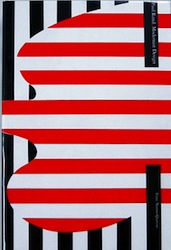 Paul Rand:
Modernist Design
by Franc Nunoo-Quarcoo
NC999.4.R36 N86 2003
New Arrivals, 2nd Floor
Can't wait for the return of television's Mad Men and its portrayal of 60's advertising and design on April 7th? Brush up on everything Modernism and learn more about one of the giants of twentieth-century design, Paul Rand. Rand created many of the iconic designs for major corporations that we still recognize today, such as logos for IBM, ABC Broadcasting, UPS, and Enron.
Nunoo-Quarcoo, Professor of Graphic Design at the University of Maryland Baltimore County, assembles images, interviews, essays, and photographs in this comprehensive work on Rand's life and design philosophy. The beautiful and striking images will inspire you to bring a touch of Modernism to your life even if you don't put on a suit and start having 3-martini lunches.