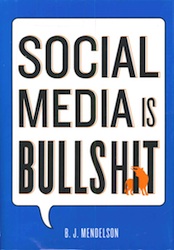 Social Media is Bullshit:
by BJ Mendelson
HM742 .M4596 2012
New Arrivals, 2nd floor
I found myself watching TV this weekend, a rare occurrence for someone that doesn't have cable. Since it was late, Saturday Night Live was on, and specifically, the Weekend Update with Seth Myers. The segment included Kourtney Barnes giving a rundown of the election according to social media. After seeing it, I knew exactly which book to feature this week.
Mendelson, contributor to a number of major online publications, doesn't think that everything's sunshine and rainbows when it comes to social media. In fact, he has some pretty strong feelings about all the tweets and status updates, if the title is any indicator. His quick read seeks to demonstrate that social media is worthless without the common business sense that has separated the successful companies from the failing ones. The author then explains the best ways to leverage the rage of the century to your advantage without breaking the bank. As long as you're OK with a little strong language and dry humor, Mendelson provides an interesting counterpoint to the social media bandwagon.