Interested in foreign affairs? Curious about what diplomatic service is like? Have an opinion on foreign policy issues? This blog's for you!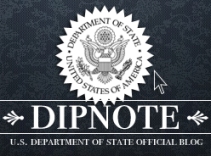 The U.S. Dept. of State has launched DIPNOTE, a blog intended to provide "an alternative source to mainstream media for U.S. foreign policy information" and an opportunity to discuss foreign policy with State Dept. officials.
Entries go back to late Sept. 2007, and include first-person commentary on postings abroad (India, Lebanon, Saudia Arabia, etc.), interviews (Director of Protection for Diplomatic Security), commentary on the United Nations General Assembly meetings in New York, and, of course, discussions on relevant issues and events.
For example, a Question of the Week posted Oct. 2 was "How To Convince Nations With Influence Over Burmese Junta To Halt Violence." More than 60 comments were posted as of Oct. 9. An earlier question about who should have nuclear technology had more than 80 comments. The postings originate from all over the U.S. and other countries.
Finally, DIPNOTE has photos and links to videos and external sites, such as the Council on Foreign Relations and Passport, a blog by the editors of Foreign Policy magazine.
So this is a way to keep up with foreign affairs and weigh in as well. The State Dept. is reading.

The University Library is a federal depository with many federal, state, local, and international documents on a variety of current and relevant issues available to you in print, microfiche, CD-ROM, and electronically. Come check out your government at the University Library!