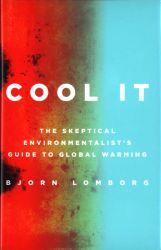 Cool It:
The Skeptical Environmentalist's Guide to Global Warming
By Bjorn Lomborg
QC981.8 .G56 L657 2007
New Book Island, 2nd floor
The author of our featured book, named one of Time's 100 Most Influential People in 2004, isn't keen on the whole public outcry over global warming. That's not to say he doesn't think that it's not a global issue which needs to be addressed. He contends that the current (costly) efforts to curb the climate change may not be rooted in scientific methods and rather of the emotions of its biggest advocates. Instead of attacking the large concern of global warming, he argues that we should take on more immediate issues, such as HIV/AIDS and fresh water, which he believes can do more within our lifetime and save more money. As Michael Crichton says in his Amazon book review, "Lomborg's concerns embrace the planet." The author, who is the director of the Copenhagen Consensus Center, also wrote The Skeptical Environmentalist, available in the Main Collection (call number GE149 .L65 2001).