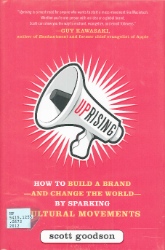 Uprising:
How to Build a Brand — And Change
the World — By Sparking Cultural Movements
edited by Scott Goodson
HF5415.1255 .G673 2012
New Arrivals, 2nd floor
I sometimes draw from my Facebook newsfeed for inspiration when it comes to New Stuff Tuesday. I mean, how can I ignore all of the colorful and attention-grabbing photos with famous quotations and the attributed famous people? Most of them seem to be pushing a cause, and some of them are sponsored by nonprofit organizations and corporations alike. This week's featured title has some insight on this phenomenon and much more affecting social change.
Goodson, leading expert and founder of StrawberryFrog, a groundbreaking movement marketing firm, discusses the current trends of firms coupling their products and services with a social cause. He does this by pulling from his extensive experience in this area, presenting case studies and interviews with other prominent gurus in the field. This includes the quintessential example: the pairing of cancer and yellow bracelets, also known as LIVESTRONG [its creator is part of the book]. The author takes you through the process of starting and sustaining a movement and explains why these causes are here to stay.