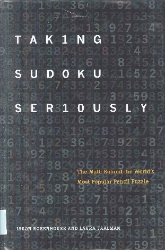 Taking Sudoku Seriously:
The Math Behind the World's Most Popular Pencil Puzzle
by Jason Rosenhouse & Laura Taalman
GV1507 .S83 R67 2011
New Arrivals, 2nd floor
While I don't want to rub it in, I had the positive fortune to spend nearly a full two weeks away from the library. Part of me being away meant that I spent a lot of time in airports and airplanes [eight flights, twenty-eight hours in the air, and even more time getting through security]. With all that time in limbo, there's nothing like stretching your mind with this week's featured subject, Sudoku.
Rosenhouse and Taalman, math professors at James Madison University, utilizes the numbers game as a springboard for a discussion about puzzles and higher mathematics. They explore such questions as the number of possible Sudoku puzzles, the necessity of math in solving them, the minimum number of clues needed to solve one, and much more. The authors then steer into the areas of graph theory and polynomials and its applicability to Sudoku [it's probably for the hardcore mathematicians – all over my head]. The best part is that the book provides a number of original puzzles to put your newly-learned skills to the test.