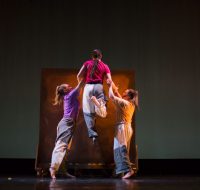 Every year, the University of Wisconsin Whitewater's Department of Theatre/Dance presents a dance performance that showcases student/faculty choreographic voices.
This past year, I decided not only to dance in the show, but to also choreograph my own ten minute long dance piece that would reflect myself. The choreographic concept of my dance LA-852 Hz was based on a personal dream journal that reflected all the unconscious adventures happening while sleeping. The creative work reflected the fascination with dreams and how each story is uncontrollably told during the night. All dreams represent our own unique selves. The dancers had a task to keep track of their own dreams, resulting in creative concepts that had a complete state of awareness while truly embodying their own individuality.
Through the collaborative process we learned that some nightmares become more memorable than others, which makes them even more enigmatic. Thus, LA-852 Hz , which means returning to one's spiritual order, has become a portrayal of individual delusions and uncontrollable imaginations taking over our bodies through movement.
The four student dancers for my cast were selected after the open auditions held in the fall of 2019. We rehearsed three hours per week, and I received constructive feedback from both of our DanceScapes Artistic Directors, Barbara Grubel and Alfonso Cervera. After being presented to the December 2019 panel of adjudicators, LA-852 Hz was chosen to perform in DanceScapes '20 and during the formal adjudicated concert at the 2020 American College Dance Association East-Central Conference at University of Western Michigan, Kalamazoo.  
Along with my choreographed piece, I decided to be a part of three other dance pieces as well. This is where I learned and developed new skills of how my body moves. It was surely an experience I will never forget.