Find your people. I have never met a more dedicated or competitive group of college students. I came in as a transfer student and was so nervous about getting involved. Slowly I started making friends and I quickly made AMA one of the biggest parts of my life. Through this organization, I have found my life long best friends, been given travel opportunities, and have been challenged in a way I never have before. 
Anyone that knows me probably gets annoyed about how much I talk about AMA but if you are truly passionate about something then why wouldn't you talk about it? Throughout my lifetime I have been involved in a lot of different things and while they have each helped me grow there is none like AMA. We have been compared to a cult or a business fraternity and maybe we are a little.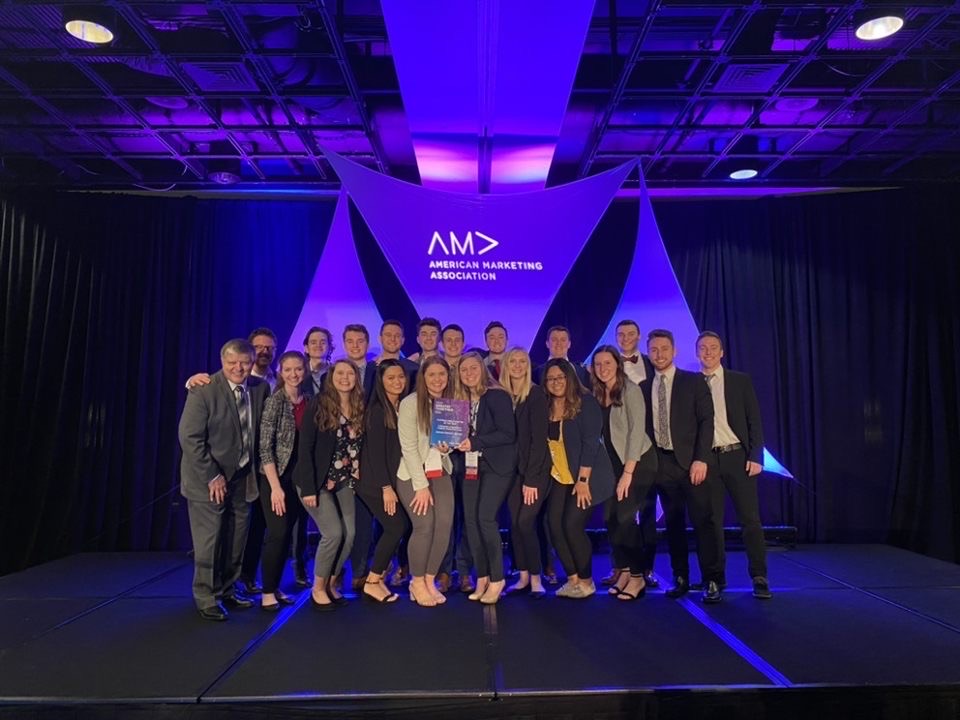 Competing/ Traveling
In the past two years, I have been in AMA, I have been given the chance to compete in many competitions. These competitions have helped me grow so much as a person by building my confidence and my knowledge. Our Whitewater chapter is the best in the world, we have won chapter of the year for the 9th time in a row and 16 times overall. This award is very hard to win, it comes from a lot of diligent work and working as a team. This has taught me to be dedicated and be very thorough with any work I create. I have participated in numerous competitions such as perfect pitch, digital marketing, and social media. I have placed and won money in many of those. More important than competitions I have won though are what I learn from the ones I lose. I am not good at perfect pitch but competing in it pushes me out of my comfort zone. Thanks to these competitions I have gotten to travel too. Some of the places I have gone to compete are Miami and New Orleans.
Friendship & Fun
I am so happy to say I have found my lifelong best friends in this organization. You would think we would get tired of each other because we have to be around each other so much but in reality, I think that is what makes us closer. There is no one that can understand how chaotic our lives are and the only ones we can see in our busy schedule. Although we are such a big group (our board is 57 people) we manage to still all be close to each other. This is helped by having socials, going to different events together, having a weekend long board bonding, and getting together for holidays such as our Friendsgiving dinner.
Resume Booster
Being a part of AMA, we have 4 different divisions. The division I am a part of is CMU, the student-led marketing agency. Through this, we function like a real agency where we have a variety of clients that pay us to do their marketing. We have account executives, assistants, and directors. We have to work with our advisors and our clients to ensure they are kept happy. There are deliverables we have to make sure we complete just like any agency. I have gotten to learn how to talk through a contract, renewing a contract with a client, and putting together presentations and having meetings with our clients. This has added 2 years of agency experience that I can add to my resume.