Positive Productivity
This semester has been crazy! Not only are we in the midst of a pandemic, but we are supposed to be able to carry on with life balancing health, school, fitness, and relationships all in one. Although social distancing and quarantine may not be ideal for most, it is important to remember to remain positive and productive during these times. It is important to focus on your personal mental health and maintain a productive and busy schedule so you do not fall into a rut. With all this free time on your hands, there are so many opportunities in front of you! Emma O'Connor focused on how we can stay fit while also staying calm in this pandemic in her last blog: https://blogs.uww.edu/warhawkfitness/2020/04/09/stay-fit-and-stay-calm/. I encourage you to try to free your mind with the list of things she suggested. However, in this blog I would like to focus on how you can stay productive during this time. Many of us like to spend our free time going out to hang with friends. Since we are encouraged to stay home, I am challenging you to try one of these productive activities listed below in your free time rather than binge watching a new show on Netflix:
● Clean out your closet!
○ With all of this free time why not take the opportunity to get rid of old clothes that don't fit or just aren't in style anymore. Having a clean room and a clean closet definitely makes me feel like I have my life together! Once quarantine is over you can have the satisfaction of donating your clothes to friends/family, a second hand clothing store, or selling them to a retailer for some extra cash!
● Cook/Bake
○ Cooking and baking are two things I personally love to do, but I rarely do them because I am always on the go. Now that I can't go out to eat at a restaurant I figure it's the perfect time to work on my cooking skills. An easy way to practice is by looking up your favorite foods on pinterest and following a recipe!
● Try out a DIY (do it yourself!)
○ Although the term DIY sounds like it might be for a little kid, there are so many cool projects I personally want to try out. A new trend I've seen on Tik Tok and Instagram is bleaching and tie dying your old clothes. I personally want to try bleaching a pair of old jeans on one side! Another trend I've seen is painting an accent wall in your house/bedroom. Here are a few examples you could try right at home:
■ https://vm.tiktok.com/WRyy47/
■ https://vm.tiktok.com/WRpd3B/
■ https://vm.tiktok.com/WRDFSC/
● Find a new artist or podcast to listen to!
○ Finding new music to listen to is one of my favorite things. I usually like to listen to music in the car, but now that we are in quarantine I won't be driving anywhere any time soon. My new favorite way to listen to music is while I'm doing at home workouts. I talked about a ton of different ways you could workout at home while social distancing in my last blog: https://blogs.uww.edu/warhawkfitness/2020/04/04/staying-strong/. Podcasts are another amazing option to pass time. Podcasts are great to listen to while doing chores around the house or completing a DIY project like I discussed above!
● Do an at home workout
○ It is important to stay not only mentally healthy, but physically healthy too! As I mentioned above, my last blog post is all about fitness and different ways to incorporate an at home workout into your day while also social distancing. Go check out that blog post for more information!
● Learn a new language 
○ We don't know how long we will be in quarantine for. Knowing a second language is so useful when it comes to applying for internships and jobs! Duolingo is a great app I personally use to help improve my Spanish speaking skills. It is free for download for Apple and Android users. Although you may not be able to master a new language by the time life goes back to normal, try practicing for an hour a day and you'd be surprised by the results! 
● Self Care Day
○ After a long day of online school give yourself a break! Do a facemask, take a long hot bubble bath, watch your favorite show, Facetime or Zoom friends and family, paint, journal, and unplug! Like I mentioned before, it is important to take time for yourself in order to maintain a healthy mindset.
There are an abundance of more productive activities out there for you to complete. Remember to not only stay healthy on the outside, but on the inside as well. Social distancing is crucial right now. Take this time to better yourself! Be positive and be productive!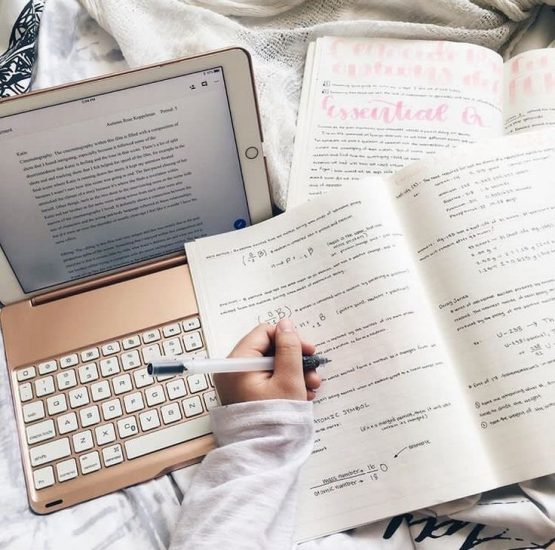 Do not get discouraged.
Cora Shircel
---
---