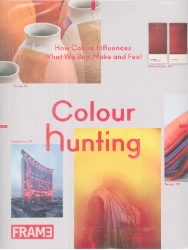 Colour Hunting:
How Colour Influences Why We Buy, Make and Feel
by Frame Publishers
NK1548 .C65 2011
New Arrivals, 2nd floor
All of this construction going on around here makes it a tad hard to concentrate. I find myself easily distracted, but not because of the saws and jackhammers. It's because I can't stop thinking about the finished product and what it's going to look like. One of the major questions: what colors are they going to use? This week's featured title tells me that the colors will impact how I feel about the new spaces.
Flipping through the pages of this book will put you on sensory overload, which is filled with amazing images of every shade and tone of color imaginable. Experts share their insights into what compels us to pick the shirt on the rack in the 'Commerce' section, the conceptual underpinnings of color in the 'Aesthetics' section, and finish up with touchy-feely side of the equation in the 'Wellbeing' section. It's written and presented more in the coffee-table-book style of things, but that doesn't mean that it won't catch your eye as you learn about the nuances and idiosyncrasies of color.