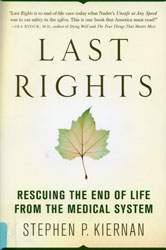 Last Rights:
Rescuing the End of Life from the Medical System
by Stephen P. Kiernan
R726.8 .K52 2007
New Book Island, 2nd floor
Death tends to be one of the heavier topics from which people shy away, as it conjures up memories of those we have lost over the years. Kiernan, journalist at the Burlington Free Press, would not be one of them. He has authored a book that takes issue with the dying process, challenging the medical system in its treatment of terminally-ill patients. He offers advice on how patients and families can work with doctors to ensure that patients are honored and respected in the final leg of their journey. The featured book also includes resources for further consultation on end-of-life care.
Thanks to Char for pointing this title out!