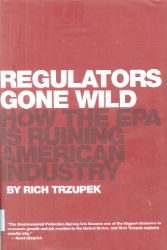 Regulators Gone Wild:
How the EPA Is Ruining American Industry
by Rich Trzupek
GE310 .T79 2011
New Arrivals, 2nd floor
It's Spring Break, and it's that time of year when college students [and those that may think they're still in college] get a little crazy. Some might even say that they… go wild. Imagine my surprise when I was looking for this week's featured title and found this gem that wasn't referring to beach vacation exploits that should have been kept a secret.
Trzupek, an experienced environmental consultant, wants the world to know that the Environmental Protection Agency [EPA], the government agency charged with protecting Mother Nature's interests, isn't doing their job. He contends that the regulators have thrown science out the door in favor of activist policies that offer no real benefit to the environment. The author covers the current green movement and its rampage against the private sector, which has sought to tie down American businesses. The book is certainly a different viewpoint from those proclaiming the gospel of going "environmentally friendly" and green.