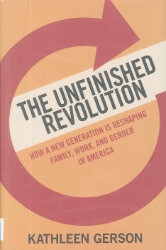 The Unfinished Revolution:
How a New Generation is Reshaping
Family, Work, and Gender in America
by Kathleen Gerson
HQ536 .G47 2010
New Arrivals, 2nd floor
I think that we're to the point in the semester that everyone is SUPER busy with classes on top of everything else going on in life. As an unattached person, I have the "freedom" from family obligations and cannot imagine additional pressures of another person or persons [that's a plus, right?]. This week's featured title discusses how the roles of individuals has become completely discombobulated with additional pressures.
Gerson, a sociology professor from New York University, tackles family and gender roles in today's society, which have obviously shifted dramatically over time. She utilizes her research with the current generation, in-depth interviews with over one hundred people ages 18-32. The first part of the book addresses the past, the home situations in which they were raised, the stereotypes that accompany discussions about notions of family, as well the not-so-happy breaking points in family life. The second part deals with the future through their eyes, in which the young people diverge on their ideas of what lies ahead for their personal lives. This title serves as an excellent addition in the growing body of literature on work-life balance and gender roles, with plenty of references for further research.