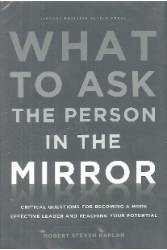 What to Ask the Person in the Mirror:
Critical Questions for Becoming a More
Effective Leader and Reaching Your Potential
by Robert Steven Kaplan
HD57.7 .K3663 2011
New Arrivals, 2nd floor
The post-its up everywhere are talking about how you're beautiful and you should believe in yourself and that you're worth it. That's all well and good [I'm also not being sarcastic either – you're awesome], but there are other ideas that jump to mind when reflecting on your appearance, like what's behind your eyes. This week's featured title discusses the role of introspection in discovering your inner leader.
Kaplan, Harvard Business School professor, contends that successful leaders don't have all of the right answers, but instead ask all of the right questions. He points to the trials and tribulations that all leaders face, utilizing these seemingly low career spots as the forks in the road for the good and not-so-good executives. Using his experience in the private sector and academia, the author covers the important skills of time management, coaching, delegation, and evaluation, as well as a discussion of reaching your potential as a future leader. While this may seem like a corporate-driven title, its themes are universal to everyone that participated in any sort of organization.