You're invited to the Grand Opening of the Student Success satellite in Andersen Library on Wed., Feb. 22, at 3 p.m. Come to the Library's 2nd (main) floor where you'll find a glass storefront entrance with signs for "Honors Program, Undergraduate Research Program," and "Academic Support Center Satellite."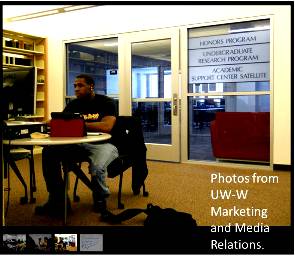 Near that entrance you'll also walk by the browsable "Great Minds" collection of books that are classics in various disciplines. Seems appropriate, doesn't it, to walk by all that inspirational knowledge on the way to success!
UW-Whitewater's Marketing and Media Relations office has provided some photos of the new space online.