Today is the anniversary of the 1948 assassination of Mohandas Gandhi, political and spiritual leader of the Indian movement for independence from British rule. He's famous, of course, for nonviolent activism, passive resistance, and civil disobedience. You can read more about it from the History Channel and also watch video of his funeral.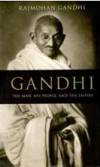 If you are interested in learning more, Andersen Library has a multitude of resources.
Search HALCat (Harold Andersen Library's catalog) to find titles such as Gandhi: The man, his people, and the empire (3rd-floor Main Collection, DS481.G3 G2165 2008–written by Gandhi's grandson), the video Gandhi (2nd-floor Browsing Feature Film DVDs, call no. GAN), The strategy of nonviolent defense: A Gandhian approach (3rd-floor Main Collection, HM278 .R85 1996), An autobiography: The story of my experiments with truth (3rd-floor Main Collection, ), and many, many, more titles.
Search article databases to find articles including "Nonviolent Non-Cooperation: An Effective, Noble and Valuable Means For Peaceful Change" (Social Alternatives, vol.29:no.1, pp.5-10), "Gandhi on Nonviolence in the Context of Enlightenment, Rationality and Globalization" (ICFAI Journal Of History & Culture, vol.2:no.4, pp.24-31), and "On the Origins of Gandhi's Political Methodology: The Heritage of Kathiawad and Gujarat" (Journal Of Asian Studies," vol.30:no.2, pp.361-372).
Search the Films on Demand database to find videos such as "A&E Classroom: Mahatma Gandhi–The Great Soul."
Please ask a librarian for assistance with finding materials.