Kayla Williams, former sergeant and Arabic linguist in an Army intelligence unit, will give a talk called "Love My Rifle More Than You: Young and Female in the U.S. Army" on Mon., Feb. 6th, at 7pm in the Irvin L. Young Auditorium. It's the first of the Spring 2012 Contemporary Issues Lectures.
Her memoir of a year spent in Iraq is also titled Love my rifle more than you: Young and female in the U.S. Army. Andersen Library does not have a copy, but UWW students, faculty, and staff may use the free Universal Borrowing service to request a copy from other UW campus libraries. Requested items usually arrive within 2-4 weekdays.
Ms. Williams has been writing, speaking, and acting in support of veterans for several years. There are blog entries by her at The Huffington Post, as well as at VetVoice.com, where she is a contributing writer and senior advisor. While she was on the Board of Directors of Grace After Fire, a non-profit that helps women veterans, she testified before the Subcommittee on Disability Assistance and Memorial Affairs and the Subcommittee on Health of the Committee on Veterans' Affairs of the House of Representatives. Her statements may be found in the published hearing called Eliminating the gaps: Examining women veterans' issues. She was appointed to the VA Advisory Committee on Women Veterans in 2010.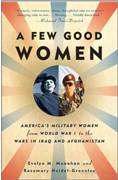 If you'd like to learn more, Andersen Library can help!
Search HALCAT (Harold Andersen Library's catalog) to find titles such as A few good women: America's military women from World War I to the wars in Iraq and Afghanistan (2nd-floor Browsing Books, UB418.W65 M66 2010), Moving beyond G.I. Jane: Women and the U.S. military (3rd-floor Main Collection, UB418.W65 Z45 2005), and Women in the combat zone (2nd-floor Browsing Academic DVDs, UB418.W65 W66 2005).
Search article databases to find articles including "Female veterans of Iraq and Afghanistan seeking care from VA specialized PTSD Programs: Comparison with male veterans and female war zone veterans of previous eras" (Journal of Women's Health, vol.19:no.4, pp.751-757) and "Predeployment, deployment, and postdeployment risk factors for posttraumatic stress symptomatology in female and male OEF/OIF veterans" (Journal of Abnormal Psychology, vol.120:no.4, pp.819-831, doi:10.1037/a0024457).
Please ask a librarian for assistance with finding materials.

Andersen Library is a federal and Wisconsin depository library with many federal and state government documents on a variety of current and relevant issues available to you in print, microfiche, CD-ROM, and online. Come check out your government at Andersen Library!