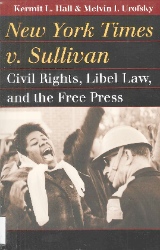 New York Times v Sullivan:
Civil Rights, Libel Law, and the Free Press
by Kermit Hall & Melvin Urofsky
KF228 .N4 H35 2011
New Arrivals, 2nd floor
The recent political scene, compounded by the fact that it's an election year, always makes for interesting times in the media. This candidate claimed… That candidate accused… The back-and-forth over who said what and did they really say that can drive all those paying attention crazy. But what happens when the words go too far? This week's featured title gives a little background on one of the seminal cases that shaped American law with regards to defamation.
Hall and Urofsky, late president of SUNY-Albany and professor emeritus from Virginia Commonwealth University, take the case of the New York Times v Sullivan, the 1964 ruling that impacted not only the legal landscape, but also the blossoming civil rights movement. They provide a historical context to the court case that pitted public officials against the press and the North against the South. The authors set the stage for the groundbreaking face-off, tying together the volatile social climate with the political scene at the time. The Supreme Court decision not only protected the freedom of the press, but it also paved the way for the African Americans to continue their struggle for equality. This book demonstrates the court's influence in altering the American society.