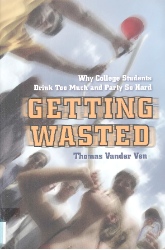 Getting Wasted
Why College Students Drink Too Much and Party Too Hard
by Thomas Vander Ven
HV5135 .V36 2011
New Arrivals, 2nd floor
Happy New Year! 2011 has come to a close, and I'm sure that we're all ready to take 2012 by storm, right? As long as you're not still recovering from all of the 'fun' that you had on New Year's Eve, that is. The week's featured title involves students' weekend [and sometimes weekday] habits with alcohol.
Vander Ven, sociology professor at Ohio University, takes on the widespread notion that college and drinking are synonymous. He confesses in his preface that it never occurred to him to actually research it though. However, after investigating the issue, he contends that colleges and universities provide enough of a safe zone from the real world for students to use drinking to excess as a social ritual or coping mechanism. Structuring the book like a night out, the author explores the process of intoxication and its effect on students and groups, when things go wrong, and the post-drinking haze. Vander Ven's research provides a welcome addition to the growing literature on the drinking culture in higher education, making it an excellent starting point on alcohol use and abuse by college students.