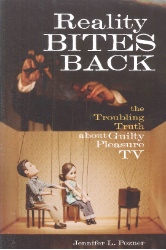 Reality Bites Back
The Troubling Truth about Guilty Pleasure TV
by Jennifer Pozner
PN1992.8 .R43 P69 2010
New Arrivals, 2nd floor
With finals taking over your life and the semester coming to an end by Friday, we are coming up with ways to de-stress prepare ourselves for the holiday season. The television has always been a dependable manner frequently utilized to take a break from reality. Of course, that break from reality might be spent watching reality TV, which, as this week's featured title shows, couldn't be farther from the truth.
Pozner, a media critic and founder of Women in Media & News, takes aim at the television industry and doesn't hold back. She targets reality television, unmasking the ulterior motives of financial gain and political agendas. The author primarily attacks the portrayal of gender and race, bringing up examples of the Bachelor and Temptation Island as the downfall of society. Writing in a biting and and engaging style, Pozner presents a solid case for becoming more critical of your entertainment choices.