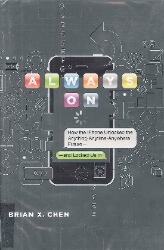 Always On
How the iPhone Unlocked the Anything-Anytime-Anywhere Future
— and Locked Us In
by Brian Chen
HM851 .C45 2011
New Arrivals, 2nd floor
If you've been reading New Stuff Tuesday for a while, you'll know that I like road trips. Well, I just got back from driving out to Virginia with my cousins to visit my grandparents for Thanksgiving. They live in the beautiful Blue Ridge Mountains, which provides amazing scenery and sadly, zero 3G coverage [or any cell phone reception for that matter]. That made the visit of a few days torturous because I couldn't use my iPhone. This week's featured title is a no-brainer, as it helped me realize that I might just have a problem.
Chen, columnist for Wired.com, starts out with claiming that even Steve Jobs didn't realize the power his company's revolutionary product that combines three essentials into one would amass. However, the author contends that the electronic device reaches far beyond our technological appetite and affects our society as a whole. The whole 'there's an app for that' mentality has infiltrated our psyches and caused us to give up more than just a few brain cells from too much Angry Birds. He delves into Apple's vertical business model and the competition's race to clone their success, as well as the attacks on users' privacy and freedom as a result. Chen brings out the implications and dangers for the 'oh, shiny!' techno-crowd in an easily digestible fashion and lists references for further research.